Social model fashion week #2
HAMPTONS ALL WHITE FASHION SHOW
Sunday, July 1st 2018
AM SOUTHAMPTON
125 Tuckahoe Lane, Southampton, NY 10010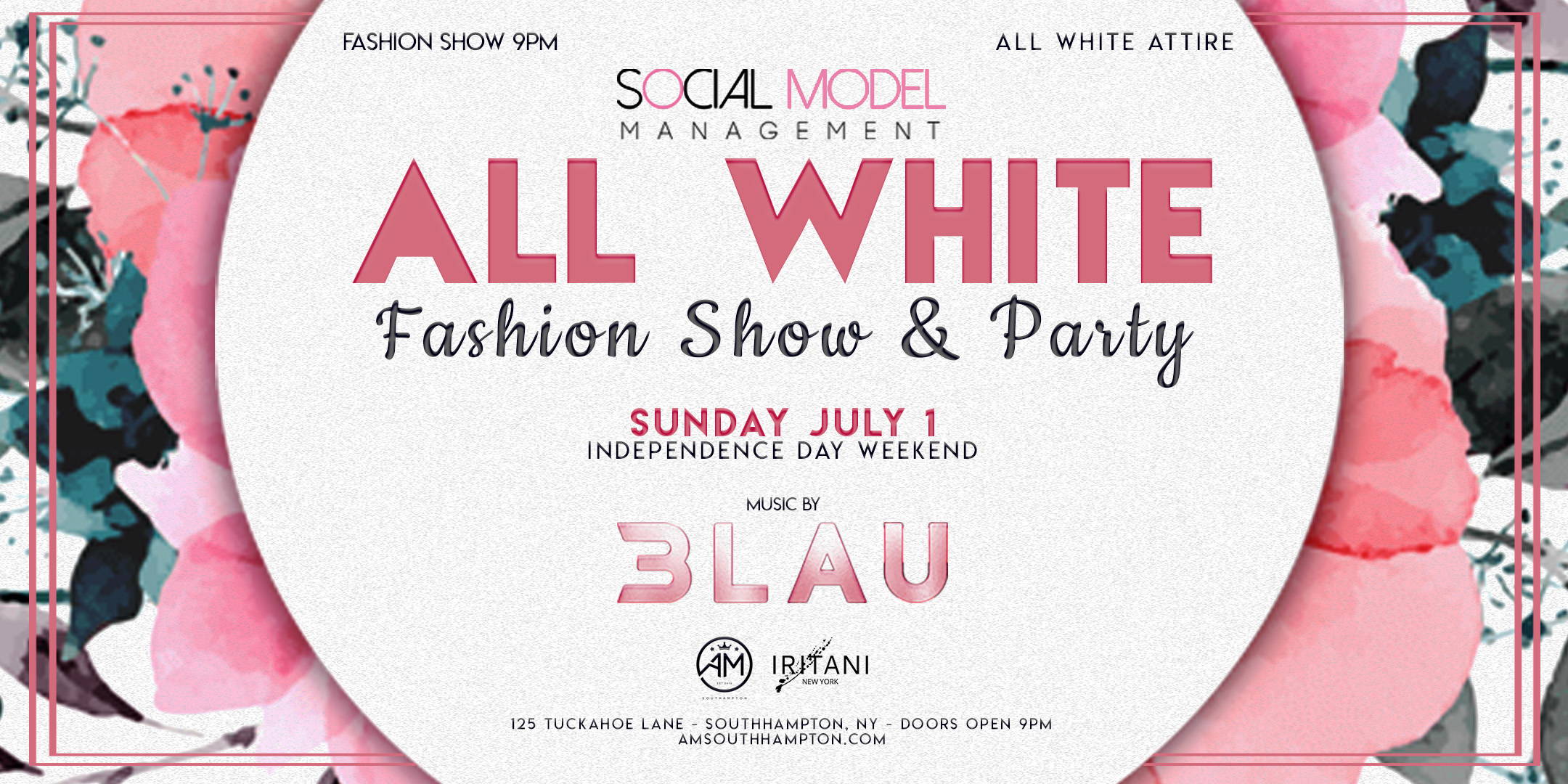 WELCOME TO SOCIAL MODEL FASHION WEEK #2
FASHION DESIGNS BY PAUL IRITANO ( @IRITANINEWYORK )
We are VERY excited to bring back the vibes and energy that over 300 MODELS, AND OVER 400,000+ VIEWS ON OUR LAST VIDEO, enjoyed at our first fashion show and party this past February!!
This time we are stepping out of the city and into the ultra-luxury and upscale surroundings of Southampton, NY
MAJOR ANNOUNCEMENT: AFTER THE FASHION SHOW, THE CLUB WILL BE HEADLINED BY WORLD FAMOUS 3LAU!!! (Tickets to his shows normally cost $100+ each)
MAJOR ANNOUNCEMENT #2: FREE OPEN BAR 9PM-11PM
EVENT DETAILS:
WHERE: AM SOUTHAMPTON
WHEN: SUNDAY JULY 1ST - 9PM
WHY: ALL WHITE HAMPTONS FASHION SHOW AND PARTY IS GOING TO BE UNFORGETTABLE!!
DRESS: CLASSY ALL WHITE - THINK PUFF DIDDY HAMPTONS PARTIES!!
Check out our last event video! 👇🏻👇🏻👇🏻
THIS ONE IS GONNA BE EVEN BIGGER!
Social model fashion show and party 2018 - HAMPTONS
Join us Sunday, July 1st for a gathering of social media models and NYC nightlifers in the Hamptons for an ALL white Fashion Show and Party! Join us for a classic Hamptons Fashion Week Red Carpet Event!!
What to know:
Where: AM SOUTHAMPTON
When: Doors open 9pm
For more info visit our Instagram @SocialModelManagement
BUY EARLY BIRD TICKETS BELOW NOW!
👇🏻👇🏻👇🏻👇🏻👇🏻👇🏻